About S-access Japan
S-access Japan is the project to construct a database of high-quality surgical videos that can be used industrially, led by the National Cancer Center Hospital East in Japan. This project is an attempt to establish a base framework for a surgery supporting system using artificial intelligence (AI) collaborated with the Japan Society for Endoscopic Surgery (JSES) and medical institutions in Japan. The project policy is to provide easy access to surgery data. We aim to achieve the project in all of Japan.
Background of the project
Surgery is one of the most important treatments for cancer. In recent years, while the number of endoscopic surgery has been increasing year by year, the number of Japanese surgeons has been declining. According to the report from the Ministry of Health, Labour and Welfare in 2019, the number of surgeons in 2024 is estimated a shortage of about 6,000 surgeons. The main reason for this tendency is the difficulty of learning. Until now, mastery of surgical techniques has largely depended on skill and judgment base on the experience and knowledge of the surgeon, and it requires a lot of time to master it. In the situation of decreasing the number of surgeons, it is desired to construct a system that efficiently trains young surgeons and reduces various burdens of surgeons by providing high-level endoscopic surgery to patients. In Japan, efforts to build databases such as endoscopic images or CT images are being progressed, but surgical videos have never been collected on a nationwide scale. In addition, although research is being carried out overseas to objectively and automatically convert surgical procedures into data from endoscopic surgery videos, and AI system development based on data-based image recognition is underway, it has become an industry both in Japan and overseas. However, a database of surgical videos that can be used for the surgical AI industry has not been constructed yet both within and outside Japan. S-access Japan is working to construct a high-quality database that can be used for the AI industry and will establish a sustainable system.
Project goals
We will tackle the following items during the 3 years period.
Preparation for the development environment of the surgery supporting system using AI
To obtain a huge amount of data for machine learning, we will prepare an environment that enables efficient execution of annotation, analysis and calculation collaborated with Nagoya University and the National Institute of Advanced Industrial Science and Technology (AIST).
Collection for clinical data and dataset creation
We collect the following data from medical institutions in Japan cooperated with JSES, and annotate the surgery process and surgical instrument to the data.
・Names of target organs and research allotment facilities collected in endoscopic surgery videos: lower digestive tract (colon, rectum) / Kyoto University, liver, biliary tract, pancreas, stomach / Oita University, prostate / Chiba University
・Metadata for surgical videos: clinical information, surgeon information
Construction for sustainable system operating the database
We share the database with medical institutions, academia, companies, and will make the data available for the development of industrial products. To achieve this goal, we will construct the system obtained the clinical data sustainably, and establish a sustainable system of database operations.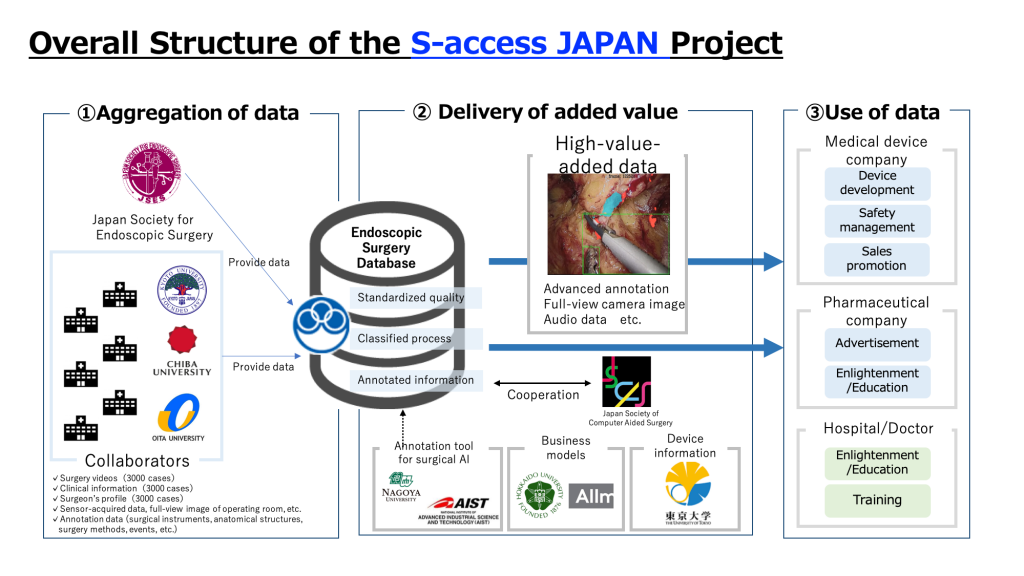 Research expenses
日本医療研究開発機構 平成31年(令和元年)度
先進医療機器・システム等技術開発事業/基盤技術開発プロジェクト
重点分野名:デジタル化/データ利用による診断・治療の高度化
研究開発課題名:内視鏡外科手術のデータベース構築に資する横断的基盤整備
研究代表者:国立がん研究センター東病院 大腸外科長 伊藤 雅昭
研究機関:2019年10月11日〜2022年3月31日(予定)